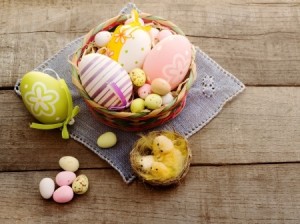 One of the best parts about spring and Easter is the wonderful colors. After the dreary winter months, the beautiful pigments of blooming flowers and awakening plants invites a sense of rejuvenation.
As life outdoors springs to life, it makes sense that the same should happen inside as well. Here are three simple ways you can bring the spirit of the spring season into your home in the form of decorations for the Easter holiday. The best part? None of these ideas will break the bank, and they're easy enough for anyone to do!
1. Easter wreath. Welcome family and guests alike to your home with an Easter wreath on the front door. Good Housekeeping shares 12 adorable ideas that are both easy and festive.
2. Easter centerpieces. Whether on the fireplace mantle, in the middle of the dining room table or on your coffee table, a centerpiece can make a splash in an otherwise plain room. On her website, Martha Stewart has shared 38 different Easter and Spring inspired centerpiece ideas you can try.
3. Easter eggs! The season would not be complete without decorated eggs! Whether you are decorating by yourself, with the children or with friends, here are 11 ideas from HGTV.com that will make sure you set the artistic bar high for Easter egg decorating!